International Dating Blog
Join the AFA team as they provide expert insight into the world of international dating, travel and marriage.
Backed by decades of experience in assisting men and women through matchmaking, John Adams and his team continue to provide value through sharing their first hand experiences.
Gauging Your Dating Compatibility with Colombian Women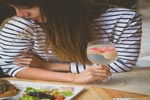 See More »
Dating compatibility is one of the most integral factors that makes a relationship last. You can truly be in love with someone, but your relationship will still end up to nothing if you are not compatible with each other.